On October 30th of this year, I celebrated my 26th birthday. Laughingly enough in Detroit, My date of birth is also known as Devils Night.
Devil's Night in Detroit

"In Detroit and much of Michigan, the night is known infamously as Devil's Night, a moniker now eternally linked with widespread arson. Devil's Night was once, however, just a different name for more of the same: mischief. In spite of the notoriety of Devil's Night, Detroit is not the only region to experience an escalation from pranks to arson on October, 30th. Camden, New Jersey had its own period of Mischief-Night-related arson in the 1990s that easily rivaled Detroit's."
It just so happened that the two went hand in hand this month, and it was very exciting. Most importantly, I was presented a magnificent cake and was surprised with two of my favorite Detroit performers.
The cake tasted amazing, and it was made by my very sweet friend Amber 
who runs the only award winning vegetarian restaurant in the metro area. 
She made it vegan & gluten free just for me, it was a beautiful surprise!
mmmmm..... turntable shaped cakes taste extra yummy.
The party was so much fun I had to share, It was a blast for all that attended. 
For my breakfast of champions, I had this simple yet GREAT start
It's just some fresh cooked steal cut oats, with a thick maple, banana sauce.
This dish was really easy to make, I just put some nut milk, grade B maple syrup,
raw pecans, and a touch of arrowroot in a sauce pan, and cooked it til' it became
a saucy texture. I lastly added fresh banana and topped it off with raw coconut. 
SO GOOD, can't wait to make it again!
Why the funk do you eat steel cut oats?
Well, for some it's just matter of time and preference. Steel cut oats take around 30 minutes
to cook, where regular oats take about 4 minutes. The longer cooking time endured however,
yields dramatically different results than the rolled oats. I prefer steel cut to rolled because
a) they are less processed
b) they have a great nutty flavor
c) the texture is firmer, chewier and more enjoyable for moi
d) they take longer to digest so you stay fuller, longer!
For Lunch I made what I like to lovingly call, THE BIG FAT UGLY
Teese stuffed soy burger on top of a samosa patty, garlic mushrooms, and a spinach/garlic 
You're probably asking yourself, What in the hell is that!?!


The soy burger patty is made from the soy ground round, formed into two patties- 
then pressed together with a thick layer of cheddar flavored Teese in the middle. 
I pan fried the burger for a long time to ensure it cooked all the way through. The
spinach/ garlic spread is just Mediterranean garlic spread with spinach & carrots.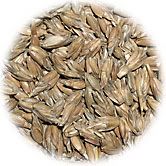 "Spelt is an excellent substitute for wheat. It is rich in proteins, which can represent up to 15% of its constituents, as well as in fibre, Vitamin B complex and other vitamins, and minerals like magnesium and iron. Spelt is nourishing, energizing and is easy to digest. It is generally tolerated by people who are sensitive to gluten. In 1098, Hildegard von Bingen, the famous intellectual, artist, mystic and healer, wrote: "Spelt is the best of grains. It is rich, nourishing and milder than other grains. It strengthens the body and purifies the blood of those who eat it; it lifts the human spirit and lightens one's mood."
For dinner a couple days ago, I made a gluten free lasagna that tasted exactly like the real sha-bang.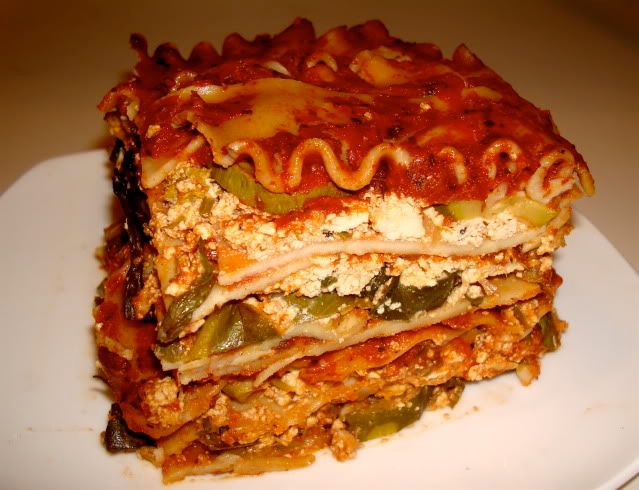 I made it with brown rice lasagna pasta, tofu ricotta, vegetables & sauce. The ricotta was mind numbingly easy. I just used tofu that had been frozen, thawed and pressed- nutritional yeast, fresh garlic, basil, sea salt and pepper. That was it, and it tasted like the real deal. I then added fresh chopped kale, collards & spinach for some green power. I squished it all together with my hands. I layered it by placing tomato sauce on the bottom, pasta noodles, fresh zucchini, then ricotta- and repeated the process over and over.
on a side note, please enjoy this cunning picture of guard dude- taken at the outdoor Detroit market!