Here is a brief A&E video on the history of Feb. 14th
hmmm...interesting.
Our neighbors & friends helped us to celebrate this special occasion in more ways than one. First we had some wonderful appetizers and a great bottle of wine to help us finish it up.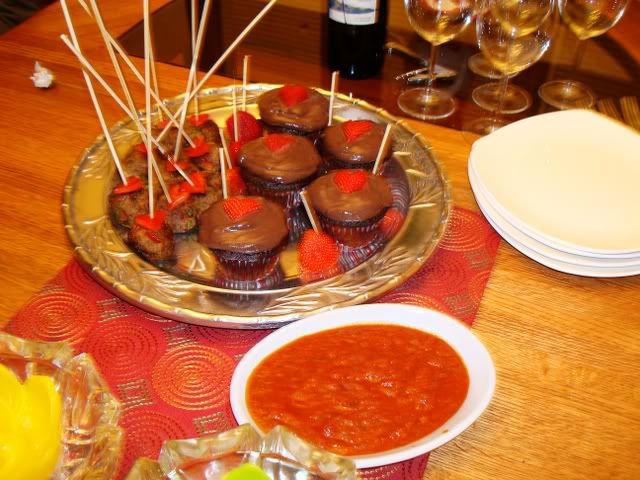 red & green bell pepper meatballs, marinara sauce. Strawberry dark chocolate cupcakes, dark chocolate pudding icing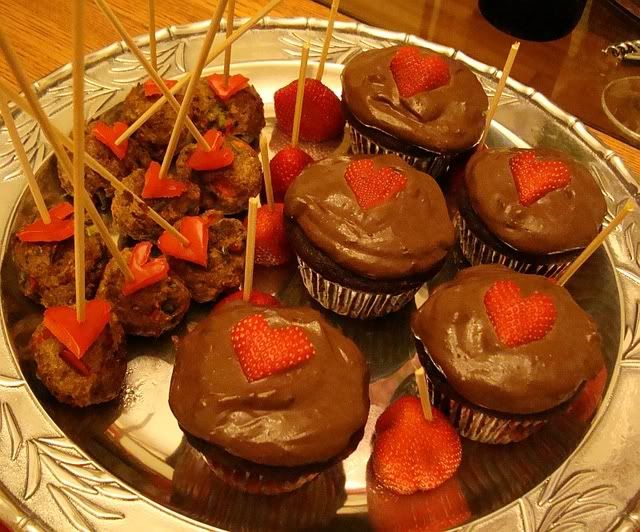 The meatballs were super easy to make. I used vegan sausage, whole grain breadcrumbs, basil, oregano, some seasoning spice, green & red bell peppers & nutritional yeast. Mixed it all by hand, made the balls, pan fried them up then put them in the oven at 325 for 15 min. They went really fast. I garnished them with hearts I cut out of a red bell pepper.
The cupcake batter recipe came right out of
Vegan Cupcakes Take Over the World
I just added dark chocolate chips and chopped up strawberry pieces.
The icing I made myself from firm tofu, cocoa powder, powdered sugar, dark chocolate chips, & vanilla. It tastes like an amazing thick pudding frosting- the best!
We had an amazing night. We went to the Detroit Music Hall and saw Talib Kweli and an awesome poetry slam that was out of control. Then we headed off to Oslo  went to party with our homies @ their clothing & skateboard store; Division Street Boutique.
check out their clothing on the website
http://www.shop.divisionstreetboutique.com