MMMM... Tofu scramble. I haven't made one in a while, this one was awesome (and gluten free too)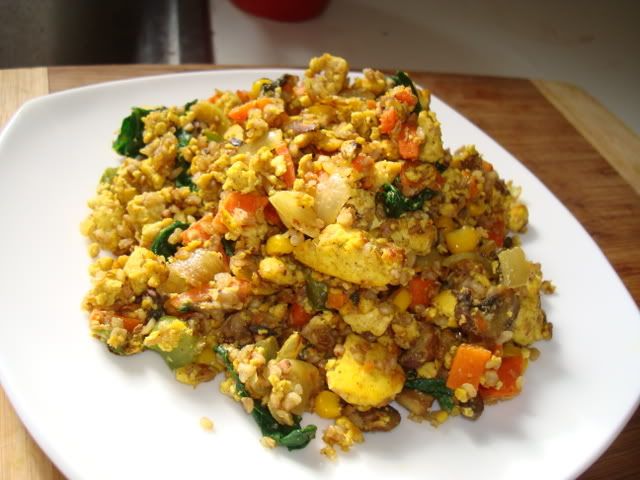 buckwheat tofu scramble
1 (12 oz) block firm organic tofu - pressed & crumbled
1 large carrot chopped
5 baby bella mushrooms chopped
1/2 medium size sweet onion chopped
1/2 large green bell pepper chopped
1/4cup corn
a couple handfuls of fresh spinach
1/2 cup dry buckwheat groats
1 cup veg stock
One of my most Delicious, gluten free inventions to date. First I cooked some buckwheat groats, exactly 1/2 cup buckwheat groats in 1 cup of veg stock. The groats are surprisingly mild in taste, similar to a rice.
I then pressed a block of tofu(to get the water out), and crumbled it into a hot pan with olive oil. I then added mushrooms, onion, green pepper, carrots, and corn. Once that was cooked good and proper, I seasoned with celery salt & nutritional yeast, turmeric, & mustard powder.
Lastly I added the cooked buckwheat groats and added fresh spinach. It was really, really good.
For breakfast I had my usual, just a little spiced up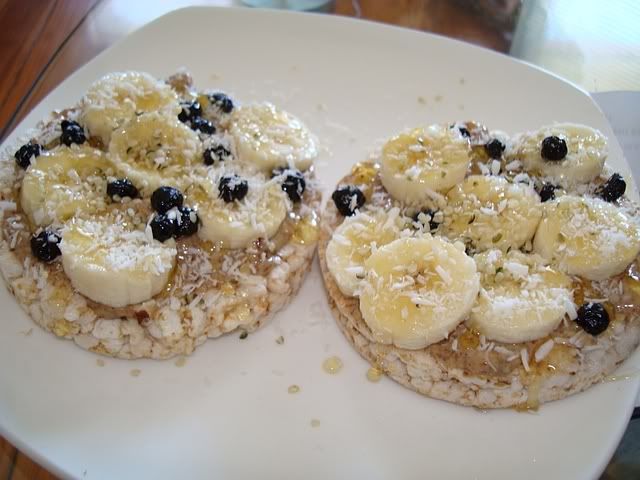 Almond butter, brown rice cracker, banana, dried blue berries, hemp seeds, coconut & agave
And then I made this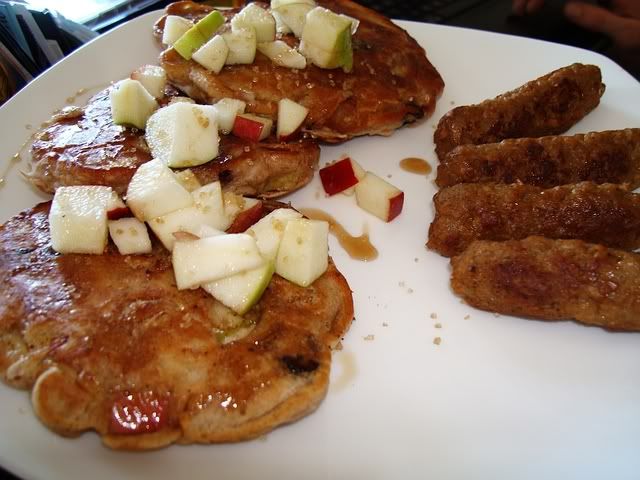 Apple fritters with walnuts, cherries, & hemp seeds
But I HAD to try it! Ever had a apple fritter doughnut? These taste just like them, only wayyy better for you.

Here is how I made it (makes the amount shown in the picture)
3/4 cup flour (I like King Arthur flour)
1 teaspoon baking powder
1/2 cup soy milk
2 table spoons agave nectar
2 teaspoons cinnamon
1 teaspoon nutmeg
1/4 cup walnuts
1/6 cup dried Michigan cherries
1 table spoon hemp seeds
1/3cup chopped mackintosh apple
Garnish:
1/4cup chopped mackintosh apple
1 table spoon lemon juice
2 teaspoons turbinado organic sugar
I took the dry ingredients and mixed them together. Then added the wet ingredients, mixed those together then added them to the dry ingredients. Pretty easy, huh?
Lastly I added the nuts and cherries. I let it sit in the refrigerator for 15 min. Then I fried it up in olive oil.
I garnished it with a cut up apple I let sit in lemon juice and sugar- With drizzled maple syrup on the cakes, it was the perfect touch.
What the funk are hemp seeds?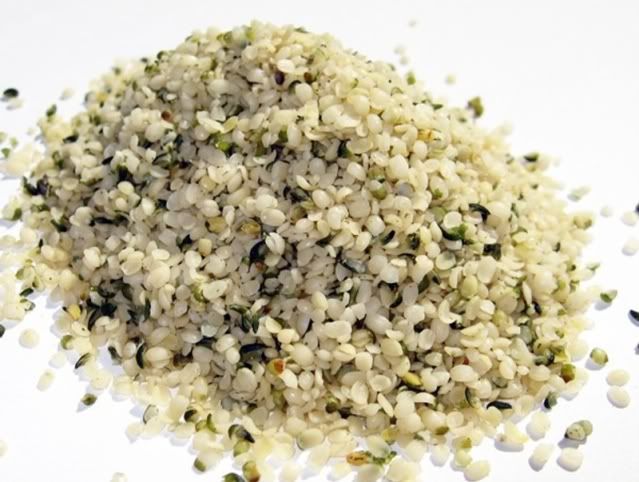 Hemp seeds are the shiznit.
"Cannabis hemp seeds contain all the essential amino acids and essential fatty acids necessary to maintain healthy human life. No other single plant source provides complete protein in such as easily digestible form, not has the oils essential to life in as perfect a ratio for human health and vitality.
Hempseed is the highest of any plant in essential fatty acids. Hempseed oil is among the lowest in saturated fats at 8% of total oil volume. The oil pressed from hempseed contains 55% linoleic acid (LA) and 25% linolenic acid (LNA). Only flax oil has more linolenic acid at 58%, but hempseed oil is the highest in total essential fatty acids at 80% of total oil volume.
"These essential fatty acids are responsible for our immune response. In the old country the peasants ate hemp butter. They were more resistant to disease than the nobility." The higher classes wouldn't eat hemp because the poor ate it. - R. Hamilton, ED.D., Ph.D. Medical Researcher-Biochemist U.C.L.A. Emeritus.
LA and LNA are involved in producing life energy from food and the movement of that energy throughout the body. Essential fatty acids govern growth, vitality, and state of mind.
LA and LNA are involved in transferring oxygen from the air in the lungs to every cell in the body. They play a part in holding oxygen in the cell membrane where it acts as a barrier to invading viruses and bacteria, neither of which thrive in the presence of oxygen.
The bent shape of the essential fatty acids keeps them from dissolving into each other. They are slippery and will not clog arteries like the sticky straight shaped saturated fats and the trans-fatty acids in cooking oils and shortenings that are made by subjecting polyunsaturated oils like LA and LNA to high temperatures during the refining process."
Excerpted from
Hempseed Nutrition
by Lynn Osburn
Soooo yea Kids- eat your seeds, plz!