OK, so the snow and the whole winter gig is still going strong... I was hoping that it would magically become Spring but things just don't always work in your favor. I am thankful for my warm house however, that is priceless. My poor small dog Ruby can't even bare the weather for more than 3 minutes outside, anything longer than that and she can't even walk to make it back to the door.
outside my backyard
One of my favorite MC's Invincible, & one of my favorite jamz "Detroit Winter"
I've been cooking up a storm as always, just not posting up a storm as always- AH WELL.
BBQ tempeh corn sandwich (I only make this because he is obsessed with bbq tempeh)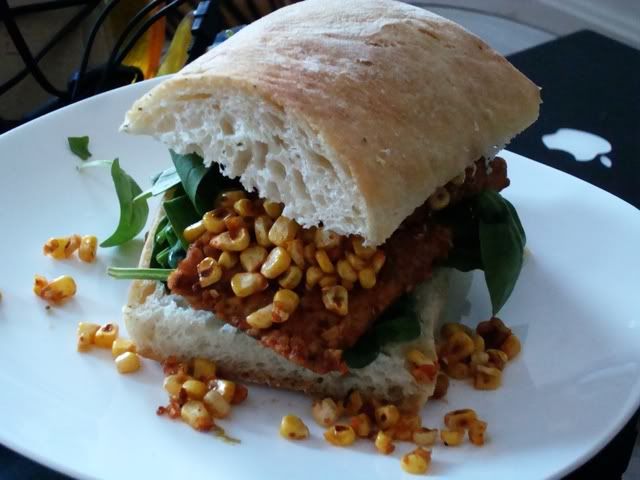 I took fresh corn off the cob, baked it a bit- boiled the tempeh- them fried it, added the corn- bbq sauce, fresh ginger, a small amount of maple syrup (grade B) and garlic.
baked Italian tofu marinera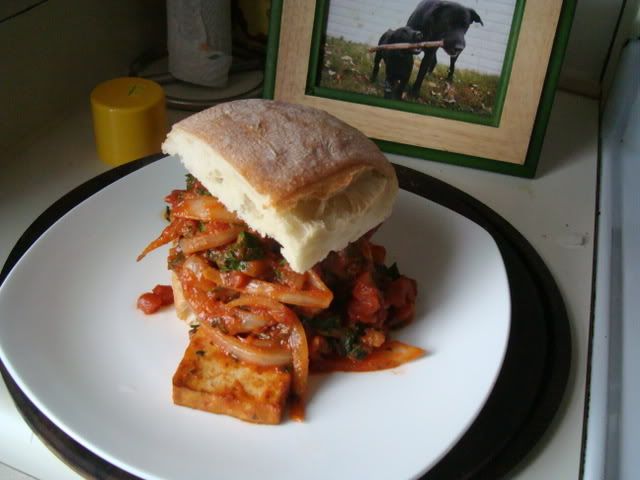 I cooked baked tofu in chopped roma tomatoes, fresh garlic, basil,oregano,sweet onions, parsley and garlic and a bit of salt and pepper.
both on local Detroit Avalon bread
Avalon bread.
Get to know Avalon bakery, Detroit
"Avalon opened in its current 2,000-square-foot location in 1997, the vision of Detroit residents and couple Ann Perrault and Jackie Victor, neither of whom had a background in either business or baking. It's now bursting out of its current digs, bringing in $1.5 million in revenues last year and seeing its products sold in Metro Detroit stores like Holiday Market in Royal Oak."

they offer vegan baked goods and vegan sandwich options also, which is something to get excited about in Detroit. They also use all organic flour- you can't beat that with a stick!

a spicy peanut/curry/terriyaki creation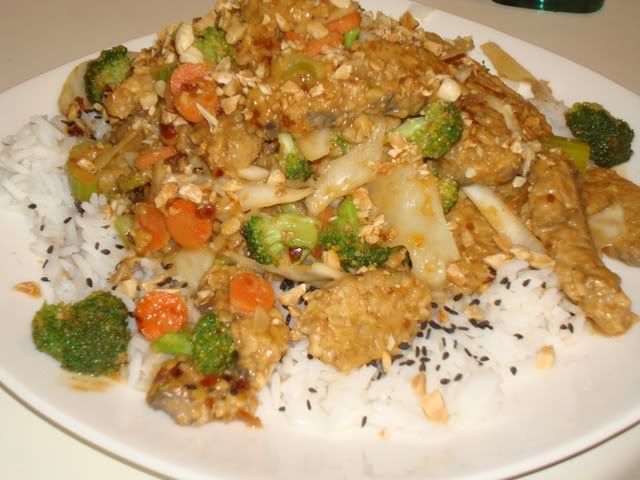 I made a peanut sauce out of organic peanut butter, rice wine vinegar, shallots, agave nectar, garlic, tamari, then sesame oil, ginger, & chili peppers

Dill infused tempeh atop Israeli cous-cous & red quinoa mix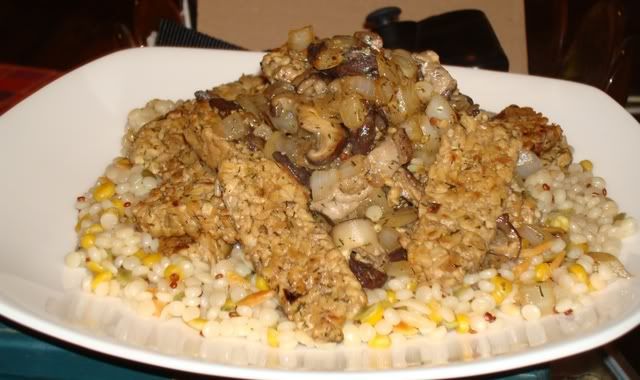 I boiled tempeh, then broiled it, then cooked it in some veg stock, then added dill, garlic, shallots and shitake mushrooms. I cooked the mix in veg stock and added a bit of vegan "soy garden"
Latin meets Italian- Mexican spicy rice with fresh brushetta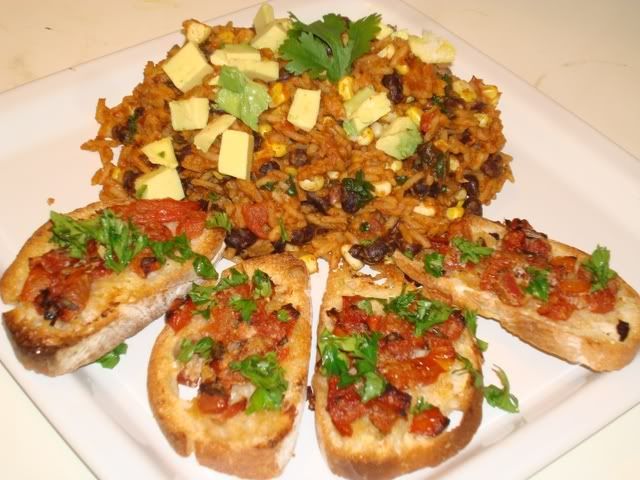 I cooked basamati rice, added ground chili powder, garlic, paprika, turmeric, salt, chopped roma tomatoes, fresh corn, organic black beans, nutritional yeast, and a generous amount of fresh organic cilantro (topped it with avocado pieces). The brushetta has roma's, fresh garlic, fresh basil, olive oil & salt.
Coconut blueberry pancakes with a fresh pineapple sauce and mini sausages
I used a recipe from the cook book "vegan with a vengeance", and added my own flip to it. I took fresh pineapple and cooked it down in water with a bit of brown sugar and cinnamon. The pancakes are thick and chocked full of coconut & fresh blueberries. I made these for my wonderful friend Ali, we had a bit too much fun the night b4, if you know what I mean...
Then for dinner I made these bad boys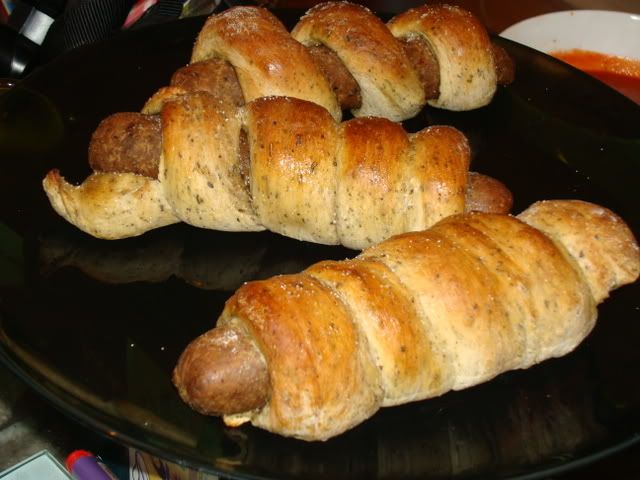 vegan Italian sausage in herb'd pretzel crust. YUM!