Ahhhh...Sunday. A wonderful day to relax, spend time with love ones, enjoy a home cooked meal & relax some more. It was another cold day in the D, so I did my best to bundle up and stay as close to the dogs as possible. If I was not careful I may have never left the bed today!
So like I stated in yesterday's post I am no longer going to eat wheat and all that jazz, So of course I will continue to make things with wheat, but I just won't enjoy them the same way that he does :)
Today's feast was mini BBQ "chickn" pizza's with fresh corn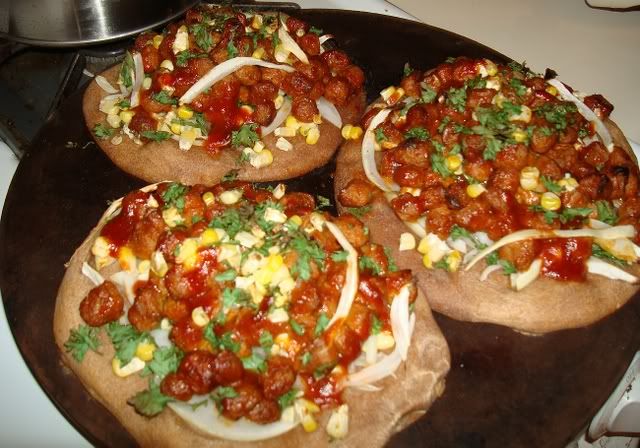 I got the soy nuggets from the local Pakistani/Indian store down the street. I re-hydrated them in water, then pan fried them.
Then I just added fresh corn, sweet onion slices and some fresh parsley (I wish I had cilantro instead, but beggars can't be choosers.)
Then for dinner I made this gluten-free concoction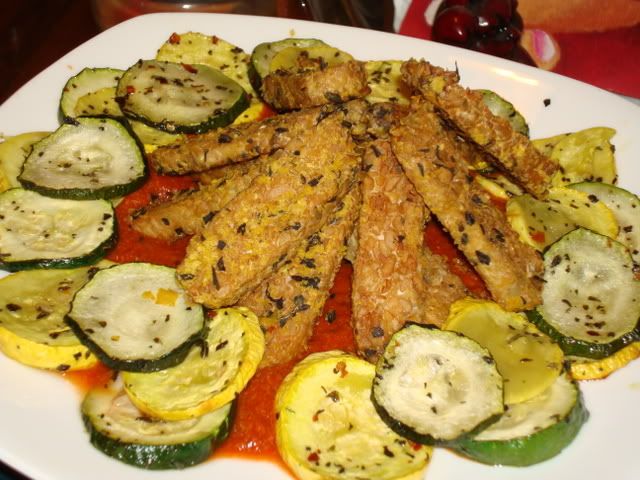 herb roasted squash with baked herb crusted tempeh strips atop garlic basil tomato sauce
the tempeh was by far the star of the show. First I boiled it for 20 min. then I cut it in strips and coated it with olive oil, oregano, basil, garlic, nutritional yeast and a pinch of salt. Then I baked it 425 degrees for 30 mins. Ta-motherfunkin-Da.