So a couple weeks ago I did an experiment with my body and I stopped eating foods that contained gluten for three weeks. I must admit, I physically felt really good because of it. After my experiment I went out and decided to have a beer, and it made me feel sick yet again :( I came to the conclusion that I should only eat bread, barley, beer and anything that contains wheat super sparingly- take it for what you will.
Lunch today was gluten free, and it tasted pretty damn good.
Sesame ginger tofu and shitake caps over hot teriyaki peanut slaw.
The caps are sauteed in sesame oil, fresh ginger, soy sauce and a little bit of agave nectar. So simple yet so good. If only I had some chives or something green to garnish...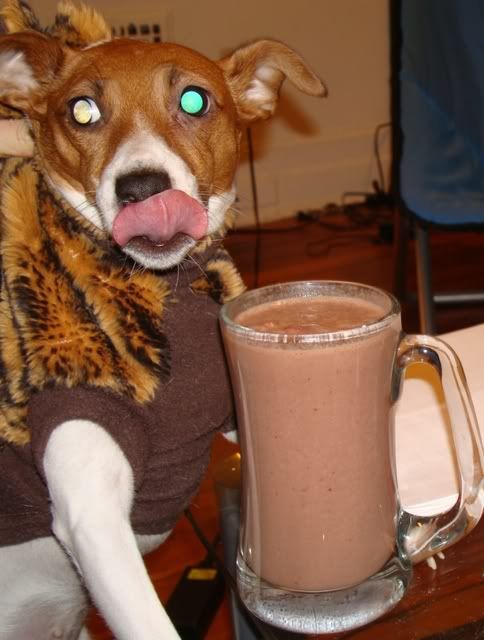 Ruby thinks it's tasty too
Have you ever heard of hemp milk? That's right, it's made from hemp seeds! It's ridiculously good for you and surprisingly delicious. "brag about it as a "balanced source of omega-3 and -6" -- essential fatty acids -- as well as "naturally rich in essential nutrients" and quality protein.
Indeed, the nutrition facts breakdown for one cup (8 ounces) can make you feel as if you're hallucinating: 46 percent of your daily calcium and 43 percent of your phosphorus?
The beverage is fortified with other vitamins and minerals, including D2 (25 percent), B12 (25 percent) and riboflavin (31).
What it doesn't present is any allergic reactions for those who can't consume dairy, tree nuts or soy, and no cholesterol or cane sugar. The manufacturer says unlike soy protein, hemp protein doesn't contain high levels of enzyme inhibitors, phytates ("which can interfere with the proper assimilation of essential minerals") or oligosaccharides ("which cause flatulence and stomach distress").
Nor does it contain any THC, as the company guarantees that it contains "0.00 percent" THC." - http://www.post-gazette.com/pg/07123/782900-34.stm

So I took a bunch of the stuff shown above, some bananas, some peanut butter and a couple frozen strawberries and blended the hell out it of. It definitely did the trick.
On a side note, on the side of the hemp milk bottle it says in bold,
"Not intended for use as a baby formula"
I guess there has been more than 1 asshole that decided to give their child hemp milk instead of breast milk? Genius.