"Unless someone like you cares a whole awful lot,
Nothing is going to get better. It's not."
— Dr. Seuss, from The Lorax
I like to humor myself with the idea that my garbage, i mean recycling collection is making a difference.

I like to recycle anything and everything, I just hate to take it to the recycling center when it's colder than a witches- well you know where I'm going with this one. Please note the amount of beer bottles has been acquired over a several month period- we're not big drinkers at home. I wish the picture captured the depth of the trash mountain better, it truly has some girth to it.
Detroit is a special city in that it does not have a city run recycling program, but it does have an incinerator- but not for long. Luckily there is an independent organization run by Detroiter's to provide recycling needs to all those itchin' to reuse & reduce. The name is Recy-clean, and they are a wonderful group of folks who make it easy for Detroiters like me to recycle.
What the Funk is a Detroit Incinerator?
"The largest solid waste incinerator in the United States, the Greater Detroit Resource Recovery Facility incinerator burns an estimated 2800 tons of commercial and household waste each day. Built in 1986 during Mayor Coleman A. Young's tenure, it has had a troubled financial and political history.

The City of Detroit financed the incinerator with $440 million in bonds, but when faced with a budget deficit and a requirement from the State of Michigan's Department of Environmental Quality to improve the incinerator's pollution controls, the city sold the facility to Philip Morris and Aviation Services both of which were attracted by tax credits associated with the facility (Collins). In "Incinerator" Allen references the current owner: "…Hey! How bout a poly chlorinated/dibenzo-p-dioxyns cigarette?" (38). The city pays rent to the incinerator's owners and management and operation fees to Michigan Waste Energy, a subsidiary of Covanta Energy-a company currently in bankruptcy (Covanta). The consequence of its thorny financial history is that it costs about $120 per ton to incinerate Detroit's waste, in contrast to a national average of about $57 per ton (Collins).
Using the Toxic Release Inventory (TRI) data from the U.S. Environmental Protection Agency (EP A), the Chemical Scorecard-a community education tool developed by the National Resource Defense Council-ranks the air pollution releases from the incinerator. Although its air releases-except for carbon monoxide-are within the EPA limits, it still emits approximately 1800 tons of pollutants annually"
here is a video I shot at the incinerator protest

enough hippie ramblings, I made some more deliciousness for mahself!
for lunch i pan seared some tofu
then made it super stellar and added coconut oil, ginger, tamari and nutrional yeast- if you've never done this you need to try it. I also threw in some baby bellas.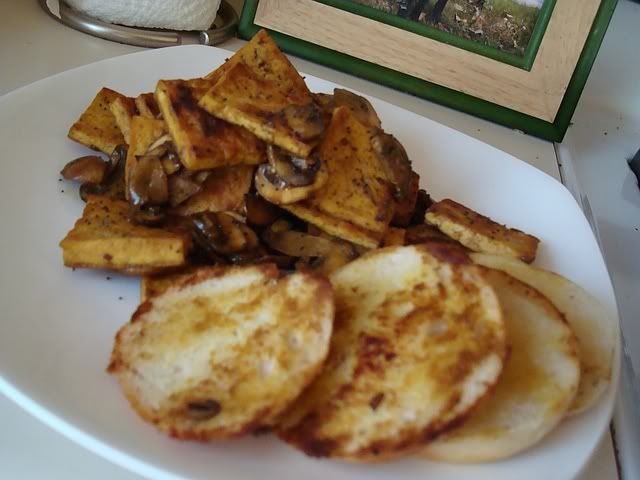 the finished product
I then made some awesome humus- took a can of organic garbanzo beans in the food processor, added about 3 table spoons of organic tahini, added the juice of 1 BIG lemon, and 2 table spoons garlic powder, 3 table spoons of olive oil and a small amount of salt. I don't know how ya'll make your humus, but mine is damn good so i'ma stick with it.
It's pictured with some gluten free crackers, talk about fancy schmancy
On a side note, always wash produce- if it's not organic then its packed with all kinds of crap you don't want to put in your body, plain and simple. I like to use this stuff;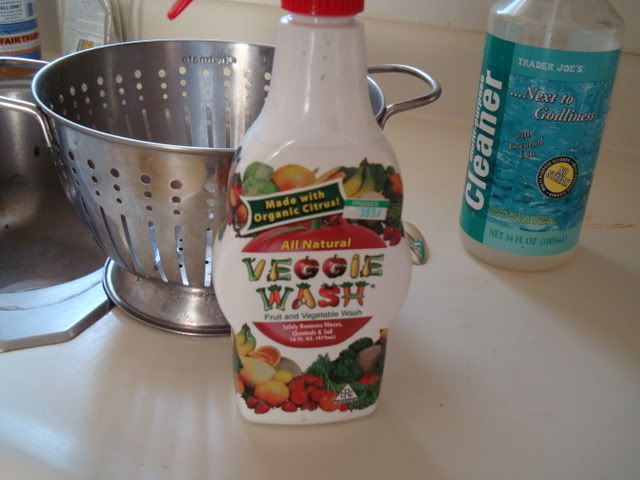 on another side note, it's more important than ever to support the local businesses around us. In Detroit it is of the utmost importance, and an essential aspect of living here and being part of the community. Too many local businesses are leaving us because we aren't supporting them enough. Everything you can think of can be bought and purchased in Detroit, you just need to explore and ask around. In this economy, the only way to spend your money is in your own city...so just do it already!
with that being said, the tahini I used for the humus is from The Detroit Zen center
"The Detroit Zen Center is a training center for monks and students, located in a poor, ethnically diverse, urban community (Hamtramck) in the center of Detroit.
As a community we are engaged in daily zen practice in its traditional form: sitting meditation. This study extends into the Zen Center environment and lifestyle, where we work to genuinely care for our buildings, neighborhood, and one another. "
http://www.detroitzencenter.org/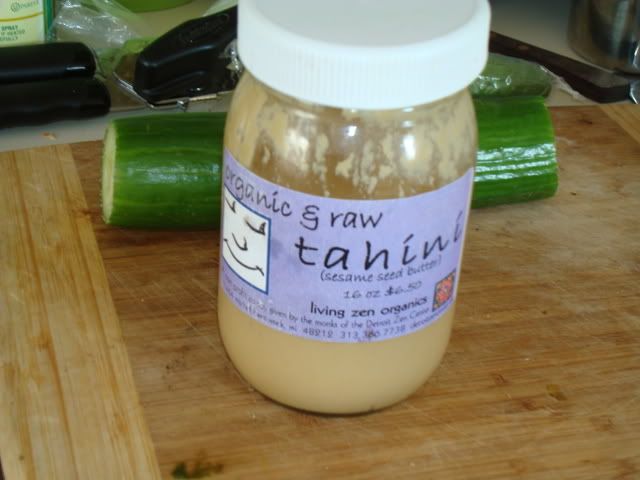 For dinner I made these kick ass kidney bean patties
I took a chopped onion, carrots & about 1/2 cup of dried TVP that I already re-hydrated and put it in a frying pan. First i pan seared it in olive oil, then i cooked it down in veg stock until dry again. I put it in a bowl with a can of kidney beans (drained and washed of course) and mashed that crap out of it- then i added a small amount of whole wheat pastry flour. Let it sit for 10 min. then I made them into patties and fried them in olive oil.
I made a mix of different types of brown rice, added some Cajun spices and some love.

I then took a frying pan and brought to a boil water, powdered sugar, molasses and cinnamon. I then cooked it til it became to thickly boil and could coat a spoon really well. I tossed in some raw pecans and coated them. I stuck them on a baking sheet and baked them at 425 degrees for 15 min. I've never done this before, I just guessed a way to make candied pecans and they came out perfect!
so there you have it;
Cajun kidney bean patties with dirty rice and candied pecans- garnished with cilantro.
the perfect balance of flavors in every bite.